Melissa Yancy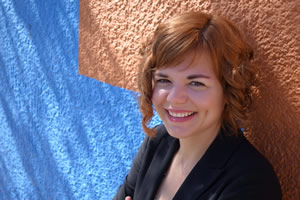 Melissa Yancy is a fiction writer whose work has appeared in Glimmer Train, One Story, Prairie Schooner, Zyzzyva, The Missouri Review, and elsewhere. Her story collection Dog Years was selected by Richard Russo as winner of the 2016 Drue Heinz Literature Prize and was published by University of Pittsburgh Press in fall 2016. She is the recipient of a 2016 NEA Literature Fellowship.

Her stories "Dog Years" and "Consider this Case" received Special Mention in the 2016 Pushcart Prize XL. "Consider this Case" was also winner of The Missouri Review 2013 Jeffrey E. Smith Editors' Prize and the short story "Teeth Apart" was first-place winner of the 2011 Glimmer Train Fiction Open. She is a graduate of the Master of Professional Writing Program at the University of Southern California, where she received an Edward Moses Award and Phi Kappa Phi Award. She lives in Los Angeles and works in the non-profit world. You'll find her on Twitter and at melissayancy.com.


Playing the Odds

Listen: bad things are going to happen. Your puppy-eyed intern is going to sell a novel at auction and then thank you for not offering her a ball-and-chain job; at a cocktail party, a girl whose father and grandfather are both famous writers will tell you she wrote her book in three weeks; the guy who couldn't bother to come to class will end up on your favorite morning show; your friends will quit writing; the teacher who was going to blurb your book will die; geniuses will be born; some of these geniuses will be thin, beautiful, smartly-dressed and have British accents. But Zadie Smith is not your problem.

Good things are going to happen, too. People will offer you kind words, sound advice, and actual editing; if you're lucky, your high school crush will show up at a reading. But you won't remember these good things.

Writer Anthony Doerr once told me something his father told him, and I'll paraphrase it poorly here: You're going to get your neck sunburned looking up all the time. I don't think he was just speaking of ambition and envy, but focus—about where your eyes actually go. And if you're focused on the literary lottery, you're looking off in the distance, spending that unearned fortune. We read author bios, convinced that Iowa, the Stegner, or the right borough in New York City will increase the odds. Then what is already in hand becomes currency that we trade in for that gamble. And what's in hand is this intricate, mysterious, printed piece of paper—a dollar bill, a story—that if looked at long enough, will almost invariably yield a fascinating new thing. Bear with me here.

In grade school, you may remember a kid in your class letting you in to the secret owl (or spider) nestled into the curved shield in the upper right hand corner of the one dollar bill. The dollar bill is the kind of thing we frequently see but rarely notice. (Unless we're kids and bored in class.) The thrill of discovering that little owl requires you look hard, maybe until your eyes even cross a little. It requires you treat this small slip of paper like a masterpiece worthy of your full attention. The one dollar bill may be proof of god, proof of satan, or evidence that aliens built the pyramids, but if all that conspiratorial speculation about the meaning of an errant spot in the pattern makes you feel more like a member of the vast literary freakfest writing about cat reincarnation, tantra for the elderly, and Hitler-ghost-avengers than the chic and bookish cultural elite, then so be it. Welcome to the fringe.

Your ex may marry a woman who goes on to win the Pulitzer Prize. She may be a former supermodel who can cook and change a flat tire. These good and bad things happen to careers, to people. They aren't what happen to your story. Your story is where the hidden owl is perched. If you can, try to look there.